EVENTS
Decolonising Film with Senegalese Women Filmmakers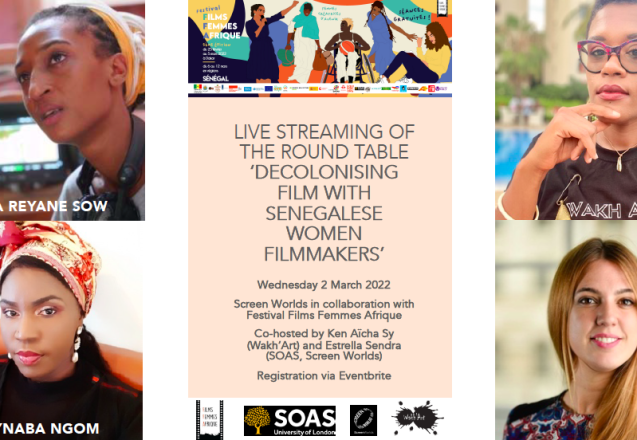 Festival Films Femmes Afrique in collaboration with Screen Worlds and SOAS, University of London invite you to a double bill film screening of:
ANONYMES (Fama Reyane Sow, 2020, 15'20")
and FISSURES (Dieynaba Ngom, 2021, 23'03")
The screenings are followed by a roundtable discussion titled:
DECOLONISING FILM WITH SENEGALESE WOMEN FILMMAKERS
Speakers: DIEYNABA NGOM and FAMA REYANE SOW in conversation with Ken Aïcha Sy (Wakh'Art) and Estrella Sendra (SOAS, Screen Worlds)
Location: Centre Yennenga, Dakar & online via SOAS SCREEN WORLDS
Date & Time: Wednesday 2 March 2022 from 15h – 17h30 London Time
Languages: French and Wolof with English subtitles
Zoom information: Full details for online attendance will be circulated to registrants prior to the event
ABOUT THE ROUNDTABLE
Selected as the honoured guest country in the last FESPACO in Ouagadougou, Senegal has played a key role in the history of African cinema, with pioneering filmmakers such as Ousmane Sembène (1923- 2007), Safi Faye (n. 1943), and Djibril Diop Mambéty (1945-1998). Following the double bill of ANONYMES + FISSURES, this round-table seeks to shed light to the narrative and approaches emerging from contemporary women film and screen media makers, whose stories place women at the very centre. Please sign in here to join the live streamed round table from Centre Yennega in Dakar!
More information about this event in the festival page: https://www.filmsfemmesafrique.com/evenements
Download the Festival Catalogue and Programme here: https://www.filmsfemmesafrique.com/programmeffa2022
ABOUT ANONYMES (Fama Reyane Sow, 2020, 15'20")
Anonymes is the debut film by filmmaker and actress Fama Reyane Sow. The short film was premièred at the Dakar Court Film Festival 2020 and was part of the official competition of FESPACO 2021. Anonymes centres the story around Astel, a young woman passionate about literature. As she gets ready for the wedding of one of her friends, we follow her wondering around the city of Dakar. Through her inner voice the spectator discovers her world and thoughts, revealing the stories of her imaginaire. She traverses her daily routines, her day ending as it begins.
About Fama Reyane Sow
Fama Reyane Sow is a filmmaker from Senegal based in Dakar. She is the co-founder of Khaleebi Production, and has worked in Blackaneze Production. She is also the director of the internet series Omerta à Ratanga, available via C'est la Vie! Youtube Channel. It raises a debate around non-medicalised abortion. Meet the filmmaker here during her participation in Dakar Court Film Festival:
https://www.facebook.com/WakhArt.sn/videos/374982957137716/
ABOUT FISSURES (Dieynaba Ngom, 2021, 23'03")
Fissures was premiered during the Banlieue Film Festival 2021 and was then showcased in the International Festival of Ciné Desert de Toumbouctou. The film raises addresses diverse forms of embodied struggle for women's rights, raising awareness of the social stigmatisation of sex workers, rape and of forced marriage. The filmmaker's empathetic gaze invites a call for solidary and mutual support among women.
About Dieynaba Ngom
Dieynaba Ngom is an actress and filmmaker member of Ciné Banlieue, a pioneering film training school in the outskirts of Dakar, founded by Abdel Aziz Boye in 2008, to whom the film plays tribute to. This is home of most of the contemporary filmmaking production in Senegal. She is the deputy secretary of ACE International, an association gathering several international cultural actresses, with over 2,800 members from 86 different countries.
About Ken Aïcha Sy
Ken Aïcha Sy is a key figure of Senegalese arts and cultures with a strong interest in women artists. Born in 1988 in Dakar from Franco-Martinique mother from journalism and a Senegalese father from the arts, El Hadj Moussa Babacar Sy (aka ELSY), who was a "militant for the creative freedom within the support and promotion of Senegalese and African artists". Following her higher studies in Design, History of Art and Spacial Design in Paris, she returns to Senegal and founds the cultural platform Wakh'art, and the cultural space La Boîte à Idée in Dakar. She is part of the Advisory Board of Wiriko. More info: https://akya-sy.wakhart.com
About Estrella Sendra
Dr Estrella Sendra is Lecturer in Film and Screen Studies at SOAS, University of London, where she is a research collaborator of the ERC funded research project 'African Screen Worlds: Decolonising Film and Screen Studies.' She is a is a scholar, teacher, filmmaker, journalist and festival organiser. Since 2011, when she directed Témoignages de l'autre côté / Testimonials from the other side (2011), an awarded documentary film about migration, she has been developing a regional expertise in Senegal. In 2012, she worked as a journalist in the cultural section of the national newspaper Le Soleil and continuous to work as a journalist as part of Wiriko. In 2018, she completed her PhD on festivals in Senegal, which traced, for the first time, the history of festivalisation in the country. She was the director and curator of the Cambridge African Film Festival in 2014, and 2015, is currently part of the Steering Committee of London Film Africa, and has been involved in further festivals in Spain, South Africa and the United Kingdom. More info: www.estrellasendra.com
About the Festival Films Femmes Afrique
The Festival Films Femmes Afrique was founded in 2003 by the Association Trait d'Union in Dakar (Senegal) with an entire thematic focus on women. Ever since its second edition, in 2016, the festival has been running on an annual basis, with annual themes revolving around women's rights. The 2022 theme is 'Creative Women of the Future'. Its growth over the years has led to the creation of the Association Films Femmes Afrique in 2019, dedicated exclusively to the festival management. Free to access by festival audiences, and with a programme spread across diverse locations in Dakar and eight different regions, the festival is an emblematic space for the discussion of the representation of women on screen. More info: https://www.filmsfemmesafrique.com
About Screen Worlds
'African Screen Worlds: Decolonising Film and Screen Studies' is a European Research Council funded research project led by Professor Lindiwe Dovey, a leading scholar and practitioner on African film and screen media and African film festivals. The project aims to centre African filmmaking, the most marginalised regional cinema in Film and Screen Studies, putting it at the heart of the discipline's future, and asking how our views begin to change when we acknowledge Africa's presence in the diverse, complex screen worlds that make up audiovisual cultures in our contemporary moment. More info: https://screenworlds.org
About CCIMSS at SOAS, University of London
The Centre for Creative Industries, Media and Screen Studies (CCIMSS) is based in the School of Arts at SOAS, University of London. It is an interdisciplinary research centre that focuses on the dynamic relationships among cultural production, aesthetics, ethics and cultural economies in local and global contexts, with a particular focus on film and screen cultures. SOAS University of London is the world's leading institution for the study of Asia, Africa and the Middle East. It has been offering programmes in arts, humanities, languages, law and social sciences for over 100 years, since its foundation in 1916. More info: https://www.soas.ac.uk/ccimss/
This round-table has been curated as a follow-up to the Screen Worlds event 'Shaping the Conversation: Decolonising Film with Nigerian Women Filmmakers' (SOAS, University of London, 26 January 2022).