EVENTS
Screen Worlds presents: NEW MOON (2018) Screening and Q&A with director Philippa Ndisi-Herrmann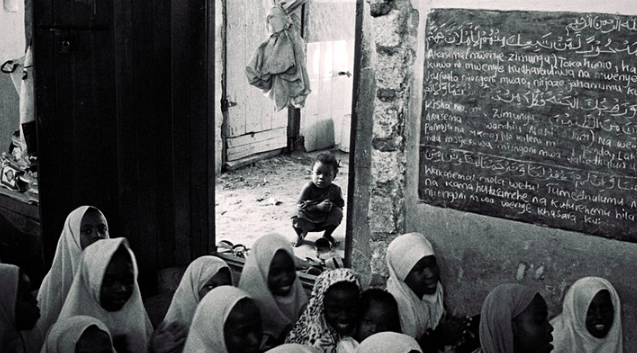 As part of the ERC-funded project Screen Worlds, we are delighted to welcome director Philippa Ndisi-Herrmann to screen and discuss her beautiful film NEW MOON. Following the screening, there will be a Q&A with the director, chaired by Dr Amina Yaqin and Professor Lindiwe Dovey.
Film Synopsis
In NEW MOON, filmmaker and photographer Philippa Ndisi-Herrmann embarks on a journey that takes her to the island of Lamu, Kenya. Her intentions are to make a documentary about the island's transformation from an obscure, predominantly Muslim stone town to a port city. The gigantic port project and coal plant are the external elements that threaten the rhythm of Lamu though the real disruption is revealed as we watch Ndisi-Herrmann confront a new spiritual awareness. Her search takes her to a woman called Raya and her young son, Ahmed. It is in their home that her narrative anchors and a more personal entry point begins. Fragments of Lamu life unfold like chapters in a book: a man scaling a fish, children bathing by a dock, a baptism, a visual diary of a woman not entirely sure of where she is headed with only her instincts guiding her. We see Ndisi-Herrmann tackle the contradictions of being a modern, liberal woman embracing Islam and grappling with the complexities of her chosen faith.
Awards
Best Documentary at the Durban International Film Festival 2018.
The Artistic Achievement Award in a Long Documentary at the Luxor African Film Festival 2018
The Ladima Award for African Women Documentary Filmmaker at ZIFF 2018
Director Biography
Born in 1985 in Bonn, West Germany, Philippa grew up beneath the tall, tall trees of Nairobi. She is a Kenyan German artist currently based in Bristol, England.
She makes films. Her works are often a mélange of essayist documentary, photography and poetry. She is inspired by childhood, family and memory. She is fascinated by psychic ancestry and spirituality and these themes often inform what she explores. She aspires, in everything she does, to reflect and bring herself and others closer to our divine, most highest selves.
Her works have garnered various awards including but not only, The Ecumenical Jury Prize at Internationale Kurzfilmtage Oberhausen 2017 and Best Documentary at Oscar Qualifying, Durban International Film Festival 2018.
An alumna of Berlinale Talents 2016, IDFA Summer School 2013 (Amsterdam) and a fellow of RAW Académie 2016 (Dakar), her films have screened at numerous film festivals worldwide including Kurzfilmtage Oberhausen and Clermont-Ferrand. She has exhibited at Turner Contemporary (UK, 2017), with the Goethe Institute, at The National Museum (Kenya, 2013) and in collaboration with The Sundance Institute, at MoCADA (New York City, 2011). In adddition, she has had the generous support of the British Council, Goethe Institut, IDFA Berth Fund, Goteborg International Film Festival Fund and Docubox.
She loves connecting with, cooking for and laughing with kindred spirits, as well as dancing to songs that touch her heart and reciting Maulana Rumi.
This event is part of the "African Screen Worlds: Decolonising Film and Screen Studies" project. This project has received funding from the European Research Council (ERC) under the European Union's Horizon 2020 research and innovation programme (grant agreement number 819236). We are grateful to the European Research Council for their support.