EVENTS
SOAS Festival of Ideas: Screen Worlds Filmmaking Showcase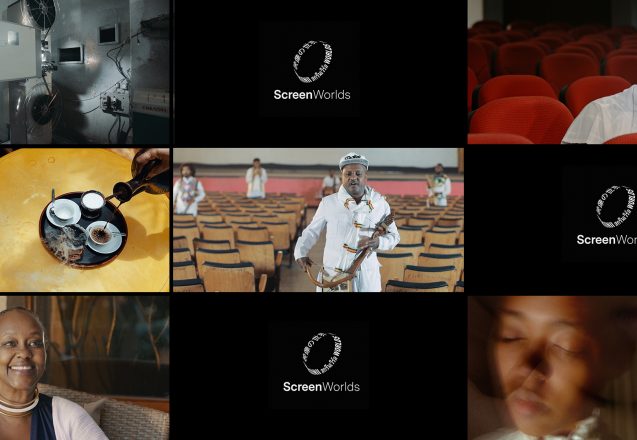 The African Screen Worlds team warmly welcomes you to a showcase of film screenings, works-in-progress and discussion! 

On Friday 4th (5.30pm-9pm) and Saturday 5th November (1pm-7.30pm) please join us at SOAS University of London to see sneak previews and panel discussions of films completed – and currently being made – by the Screen Worlds team. 

The showcase will focus on contemporary filmmakers in Kenya and South Africa, the vibrant past and present film culture of Addis Ababa in Ethiopia, and the ground-breaking work of Nigerian film exhibitors. 

This enriching cinematic conversation and celebration will be hosted by the Screen Worlds team leader Professor Lindiwe Dovey and her international research team. We will also be joined by some of our filmmaking partners, including Judy Kibinge (from Kenya), Palesa Shongwe (from South Africa), Yidnekachew Shumete (from Ethiopia) and Ojie Imoloame (from Nigeria).

The full schedule for this showcase is available below. We cannot wait to see you there!


1-2pm: Panel discussion
Thinking Through Film
 
Panel discussion chaired by Dr Clive Nwonka (UCL) with Professor Lindiwe Dovey, Dr Añulika Agina, Dr Nobunye Levin, and Dr Michael W. Thomas about their processes and praxis in making films as part of the African Screen Worlds research project.
 
2-2.15pm
Comfort break with tea, coffee, and biscuits
 
2.15-3.30pm: Performance talk and screening
Reverie
A dialogue-screening in the context of a performance talk with filmmakers Nobunye Levin and Palesa Shongwe, focusing on their short piece Reverie. Reverie lies at the nexus of the essay film, videographic criticism and found footage film. Reverie is a work in process. It is assembled from "pieces" – film fragments, fragments of text and conversation, and out-takes – to reveal a feminist love praxis in the collaborative life of the two filmmakers. It is a work of epistolary, ephemeral impressions, organised through the "logic" and action of reverie, where echo and resonance are considered. In Reverie, freedom and pleasure are imagined through the aesthetic and form of states of reverie, where the haptic is also conjured, as a further site of freedom and pleasure. Reverie is a relational reverie, where a series of women dream of one another in call and response – a "freedom dream" tracing the reverberations of various "freedom dreams", in the audio-visual bonds between the different "pieces". When seen in conjunction with the screening of fragments from Reverie, the performance talk operates as a kind of expanded cinema, where facets of the film's form and concept are made to spill over into the screening space / room through their embodiment in the performance and the performers.
 
Following the performance talk, Professor Erica Carter, Professor of German and Film at King's College London, will be in conversation with Dr Nobunye Levin and Palesa Shongwe.
 
3.30-3.45pm
Comfort break with tea, coffee, and biscuits
 
3.45-5pm: Conversation and screening
 
Cinema Addis Ababa 
 
Dr Michael W. Thomas will be joined by Ethiopian filmmaker Yidnekachew Shumete to discuss their documentary Cinema Addis Ababa. A short preview clip of the film will be screened followed by a Q&A discussion exploring the central theme of the documentary – love in Ethiopian movies and Addis Ababa's film and cinemagoing culture.  
 
5-6pm
Wine reception
 
6-7.30pm: Film Screening and Q&A
Behind my Nollywood Screen
 
In this 45-minute documentary, Behind my Nollywood Screen (2022), directed by Dr Añulika Agina, we follow Ojie Imoloame, a Nollywood enthusiast as he uncovers aspects of contemporary film exhibition by interrogating important exhibitors, visiting old film sites and searching archives and books. The screening will be followed by a Q&A with the director and Ojie led by film scholar and screenwriter, Dr Samantha Iwowo. You can watch the official trailer on the Screen Worlds website.
 

A full list of all the amazing events taking place from 29th October to 30th November 2022 as part of the 
SOAS Festival of Ideas
 is available 
here
.