EVENTS
Workshop Report: 'Decolonising Film and Screen Studies in Nigeria 2020'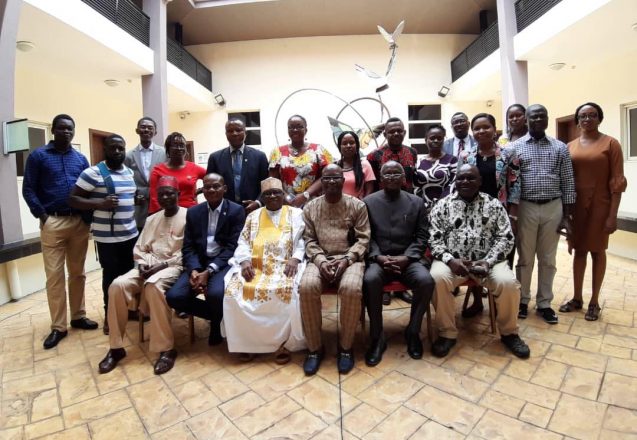 Written by Añulika Agina
The very first workshop of the Screen Worlds (SW) project took place at the Arthur Mbanefo Digital Research Centre, University of Lagos, Nigeria, from 16-18 March 2020. The workshop, called 'Decolonising Film and Screen Studies in Nigeria', was conceived as a meeting of primarily Nigerian film and screen studies scholars, policy makers and filmmakers to discuss practical ways of decolonising the film curriculum and pedagogical practices in Nigerian universities. It was attended by eminent scholars in sixteen universities in Nigeria, Canada, France and the UK. A week before the workshop, the increase in confirmed cases of Covid-19 sadly prevented the UK-based team from travelling to Lagos, but since most of the expected participants were based in Nigeria, we decided to go ahead with the workshop while deploying teleconferencing facilities for remote participants.
With six panels, three screenings and two vibrant interactive workshops, not forgetting abundant food and drink as well as music and dancing, the workshop was a rich meeting place of intellectual exchange, debating previously-held perspectives and dislodging colonial paradigms in relation to Film and Screen Studies. The workshop was co-organised by Dr Añulika Agina (Postdoctoral Fellow in Nigerian Screen Worlds for the SW project) and Dr Patrick Oloko (our Lagos-based SW consultant), and hosted by the Institute of African and Diaspora Studies (directed by Professor Muyiwa Falaiye) as an informal partner of the SW project. Suitable workshop and lodging facilities ensured that the small group of 20 participants worked together and networked intensely over three days.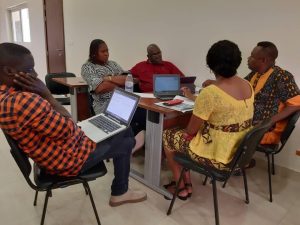 There is a clear need to insert Africa into Film and Screen Studies, and the teaching of film production, given the dominant paradigms with which most scholars and practitioners approach the discipline. The first panel addressed this need to domesticate the art and technology of filmmaking in Nigeria. Including African history, language, mythology, folklore, craft, dance, literature and other elements of culture in the film curriculum is something that is desired by all but yet to be actualised. To accomplish this, Dr Ike Obiaya and Dr Patrick Oloko argued for a revision of the monolithic view of Africa by defining exactly what the word 'Africa' means in any given context. All the panellists agreed that the language of expression in African films ought to be African but Professor Hyginus Ekwuazi's intervention suggested that in addition to using native languages in dialogue, specific film language and techniques should also be appropriated to reflect the nuances of Africans' lived experiences. The curriculum development panel, with leading professors such as Femi Shaka, Abdalla Uba Adamu and Umar Jibril, reiterated the importance of language, and shared experiences of their activist work in the past dozen years. They provided historical reflections on the politics of curriculum development and its implications for both academic and industry needs.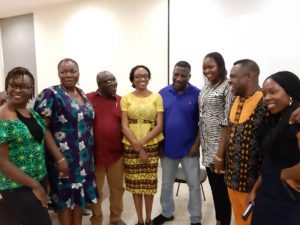 In an interesting debate about local decolonising efforts, Femi Odugbemi – filmmaker and founder of the iREPRESENT documentary film festival in Lagos – pointed out that the technology for making films is not Africa-based and that the technology giants who produce film equipment have no service centres in Nigeria. This creates an additional burden for decolonising attempts as the structures of dependence are deepened by the fact that Sony, Canon and other hardware providers sell equipment to Nigerians yet do not invest funds in any aspect of filmmaking in the country. But the political economy of film practices, policy-making and academia undercut the force of Odugbemi's position as Professor Shaka noted that governments and policy makers could hinder rather than facilitate the collaboration or partnerships suggested by Odugbemi. Another major obstacle is the lack of access, the solution to which was well summed up by Odugbemi: "We need investments in spaces that preserve a channel or connection between African stories and global audiences" – spaces such as major film festivals like the Berlinale, Cannes, TIFF, and DIFF.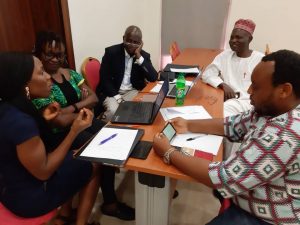 Debate about the strong dichotomy between film production and film studies programmes pervaded the workshop, with the former being stronger in Nigerian universities for cultural and vocational reasons. From the panels over the three days, it was obvious that a working curriculum is in place and the need to decolonise that together with teaching approaches is evident. However, decolonising Film and Screen studies in Nigeria will not happen with the existing structures of financial dependence found within institutions of higher learning. First, film departments have to attain independence from the usual streams of funding in Nigerian universities. With adequate funding, the infrastructural and technical problems identified at the workshop could be solved to a satisfactory level. Second, flexible adjustments have to be made in terms of taking the best of western theories and practices and adapting them to Nigerian cultures and contexts. Third, competent industry-academic collaborations in curriculum development for Film and Screen studies together with succession plans were discussed. A proper framework for action developed and implemented by more universities will certainly enhance the use of a more decolonised curriculum. One of the components missing from some lecturers' teaching is a deep history of African cinema even with particular reference to Nigerian cinema, and the SW toolkits that have been developed aim to support colleagues with resources to do this. Giving students the chance to participate in film festivals in Nigeria and beyond is yet to be accomplished, but with the new vigour injected into the participants by the lively discussions, we hope that individual efforts in that direction will begin and hopefully endure. Bringing together both formal and informal approaches to renewed curriculum design is certainly the best approach to decolonising our discipline.
The SW team is very grateful to our wonderful partners at the University of Lagos and to all the participants who made this such an enriching workshop.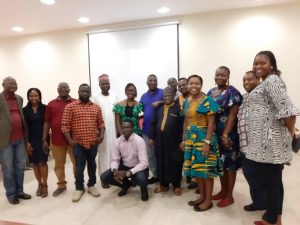 Workshop Participants
Prof Muyiwa Falaiye
Prof Hyginus Ekwuazi
Prof Abdalla Uba Adamu
Prof Umar Jibril
Prof Duro Oni
Prof Femi Shaka
Prof Marcel Okhakhu
Prof Sola Fosudo
Mr Femi Odugbemi
Mrs Abiola Tayo-Afolabi
Mr Ehiz Ojesebholo
Dr Elizabeth Olayiwola
Dr Ike Obiaya
Dr Gloria Ernest-Samuel
Dr Morountodun Joseph
Dr Ezinne Ezepue
Mr Tunde Onikoyi
Dr Cornelius Onyekaba
Mr Lani Akande
Ms Folakemi Ogungbe
Dr Chris Ogbonna
Mr Lawrence Akande
Prof Onookome Okome
Dr Patrick Oloko
Dr Añulika Agina
Zoom Participants
Dr Clive James Nwonka
Dr Alessandro Jedlowski
Prof Lindiwe Dovey
Dr Michael W. Thomas
Prof Kate Taylor-Jones