EVENTS
You Hide Me: 50 Years On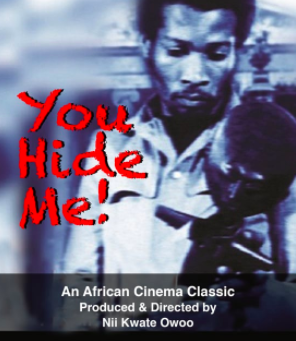 This event is part of a webinar series organised by the June Givanni Pan African Cinema Archive (JGPACA) with invited partners SOAS University of London, AFFORD and the Africa Centre with Art Fund support.
FREE REGISTRATION AVAILABLE HERE
On Wednesday 7 October, the June Givanni Pan African Cinema Archive, in collaboration with SOAS University of London, is delighted to bring you You Hide Me: 50 Years On, a panel discussion focused on the 50th anniversary of the film You Hide Me by Ghanaian filmmaker Kwate Nii Owoo. In 1970, the filmmaker managed to enter the British Museum to make this short film about the valuable African artefacts held there, and the film is held in the JGPACA. Panelists will discuss this film in relation to the vital topic of the restitution, curation and teaching of African art.
The panel will be chaired by filmmaker, writer and Senior Lecturer in Film Studies, University of Winchester, Dr Imruh Bakari, and speakers include:
Errol Francis (CEO, Culture& Org)
Didi Cheeka (filmmaker, curator and archivist)
Awa Konaté (writer, curator, Founder of Culture Art Society (CAS)
Dr Polly Savage, Lecturer in Art History of Africa, SOAS
Prof Kofi Opoku Asare (Institute of African Studies (IAS), University of Ghana)
Kwate Nii Owoo (filmmaker – You Hide Me, Founder of Media Research Unit, (IAS), University of Ghana)
Attendance is free but space is limited so get your ticket early! Those with tickets will receive details of how to attend the event, and watch the film You Hide Me, closer to the time. Donations to the June Givanni Pan African Cinema Archive GoFundMe page would be appreciated, but are not required.
This event is part of the "African Screen Worlds: Decolonising Film and Screen Studies" project. This project has received funding from the European Research Council (ERC) under the European Union's Horizon 2020 research and innovation programme (grant agreement number 819236). We are grateful to the European Research Council for their support. The event is also part of our regular seminar series at the SOAS Centre for Creative Industries, Media and Screen Studies.
The other webinars that are part of this series will be held on 20 October, 3-4.30pm (AFFORD) and on 29 October, 7-8.30pm (THE AFRICA CENTRE).