Filmed Events
FILM FESTIVAL FILM: UK Premiere and Panel Discussion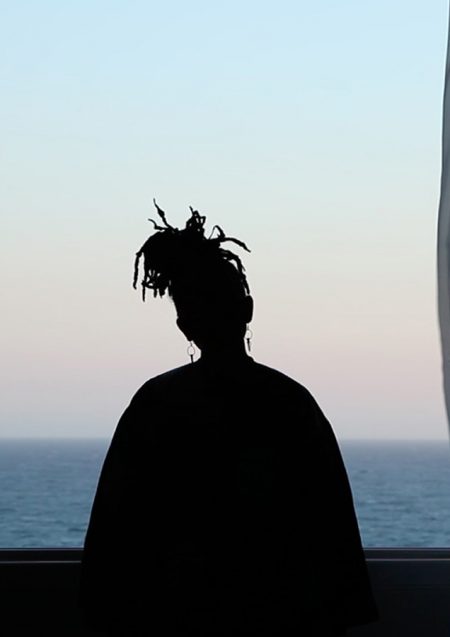 We were delighted to launch the SOAS Centre for Creative Industries, Media and Screen Studies and the ERC-funded project African Screen Worlds: Decolonising Film and Screen Studies with the UK Premiere of the groundbreaking movie FILM FESTIVAL FILM. We welcome co-directors Mpumelelo Mcata and Perivi Katjavivi, as well as producer Anna Teeman, to a post-screening panel discussion and Q&A chaired by SOAS Professor of Film and Screen Studies, Lindiwe Dovey.
FILM FESTIVAL FILM is a movie shot over a weekend at the Durban International Film Festival, South Africa, in July 2018 by the underground South African collective Medu African Film Ensemble (aka Medu AF). With a sense of mischief and minimal resources pooled together by its contributors, the film tells the story of Fanon (played by Mandela: Long Walk To Freedom star Lindiwe Matshikiza) – a black female filmmaker beset by her demons ten floors up in an ocean-side hotel, gazing out over African shores during the hermetically-sealed weirdness that is the world of a film festival.
Using elements of fiction and documentary, the film follows Fanon as she wrestles with what the film industry expects her to be, and not to be, as she readies herself to pitch her first film. Fanon navigates this uncharted territory, while a supporting cast of real-world, "leading, industry professionals", including a new member of the Academy™ and an Emmy™ award-winner, dish out advice straight to camera, while seated in her hotel room but seem to never address her directly – are they apparitions or voices in her head? Always in the wings are the rest of the team, posing as a documentary crew, caught in reflective glimpses and snatches of conversations, asking questions of hyper-capitalism and racial prejudice, interrogating the notion of what makes a "good film", and who gets to decide such things. Behind-the-scenes shifts to front-of-scene and back again, theory blends with praxis, as it becomes less and less clear who has the reins, unsettling the foundations of the so-called proper way of doing things.
FILM FESTIVAL FILM is purposefully improper, a film about film festivals, made at a film festival, meant to turn the mirror on film festivals, which have a habit of glorifying those who point their cameras wherever they wish, but never like to share their toys. But there is hope in Fanon. She knows she is the future. Up on the 10th floor, surrounded by all the noise, it's time for her to set flight and make an immense leap of faith – in herself.