EVENTS
The Garden Cinema presents: Francophone West African Cinema – with Film Africa, KCL and Screen Worlds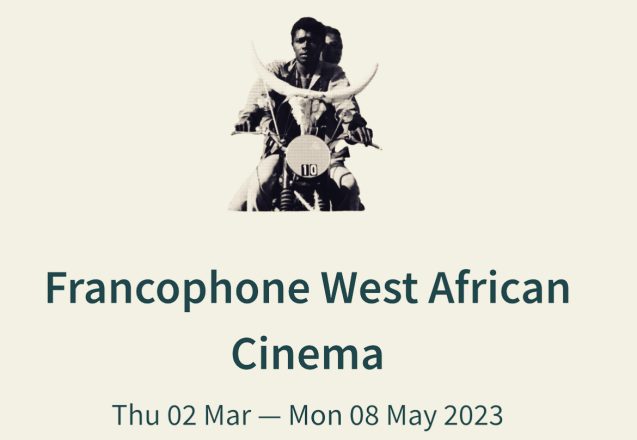 In partnership with Film Africa, and King's College London and Screen Worlds, featuring expert introductions and post film discussion groups, this major new season at The Garden Cinema invites audiences to experience nine masterpieces arising from postcolonial and contemporary Francophone West Africa. This counts on the participation of two Screen Worlds members, Dr Nobunye Levin and Dr Estrella Sendra.
Estrella Sendra, Lecturer in King's College London and Advisory Board member in Screen Worlds will be the speaker introducing the first film screening of this season, Black Girl, directed by Senegalese filmmaker Ousmane Sembène (1966), who would have been 100 years old this year, preceded by a contemporary short film, Dem Dem! by Senegalese filmmaker Pape Bouname Lopy (2017). This will take place on Thursday 2 March at 6 pm in The Garden Cinema. You can book your tickets here and apply the discount code when checking out. Nobunye Levin will be introducing Atlantics (Mati Diop, Senegal/Belgium/France, 2019) on Thursday 16 March at 6 pm. You can get your tickets here.
The Garden Cinema is a unique new independent cinema venue located a few minutes walking distance from King's College London, in Covent Garden. It opened its doors in Spring 2022. The Cinema has two screens: one with 70 seats, the other with 40, with a third witt 80 seats being added soon. The cinema is intended to be an accessible place for film-lovers to meet and enjoy and discuss film rather than a luxury cinema space. The programming focuses on independent and foreign language cinema as well as seasons of classic and lesser-known films. It offers a lifetime membership for a one-off fee of £20.
The season begins with two films by 'the father of African film' Ousmane Sembène: Black Girl (1966), a new entry in the 2022 Sight and Sound top 100, and the 2020 restoration of Sembène's satire of postcolonial Senegalese bureaucracy Mandabi (1968). Sembène is joined by his compatriot Djibril Diop Mambéty, whose classic Touki Bouki (1973 – also appearing in last year's S&S poll – features here alongside his late masterpiece Hyenas (1992). We pay tribute to the great Malian director Souleymane Cissé with an extremely rare screening of the politically charged tale of youth in revolt, The Wind (1982), and the much-acclaimed Yeelen (1987), a magic infused counter narrative to Western ethnography. Also working predominantly in Mali, and with a new feature slated for release in 2023, Abderrahmane Sissako's films confront immediate political and cultural fractures. In Bamako (2006) he stages an audacious trial to take the IMF and World Bank to task for their destructive legacy in Africa. And in Timbuktu (2014) Sissako finds poetry and humour in a heart wrenching story of life under Jihadist rule in the titular city. Our season culminates in diasporic filmmaker Mati Diop's haunted, beautiful, and mourning tribute to Dakar and the young men who risk their lives attempting the perilous Atlantic crossing to Europe, Atlantics (2019). Additionally, selected features in the season will be paired with short films by contemporary filmmakers from the region. You can check the full programme here.
Audiences will be encouraged to consider these films in relation to each other, as responses, echoes, or significant breaks away from European film movements, and other global cinemas. Does Francophone West African cinema construct a unique cinematic language or is such a notion impossible, given the colonial history of both the region and the art and technology of film itself? Can the immediate postcolonial responses of Sembène and Mambéty be compared to the more recent work by Sissako and Diop? We will question whether the categories of 'African film', or even 'Francophone West African cinema', are sufficient to contain the stories of such a vast and complex landscape.
Alongside films and talks, this season will include special events involving live music from kora maestro Kadialy Kouyate, readings, and food and drinks provided by Taste Black History, to augment selected screenings. See individual film pages for more details including guest speakers and discussion group dates and times.